Acer Iconia Tab
The bulky Iconia has a good screen, but bad battery life may give some consumers pause.
Acer Iconia Tab Tablet Review
$450.00
Email
Included among the several additional software applications on the Acer Iconia Tab is Google's Gmail application, which allows you impressive access to all of Gmail's features, but on a touchscreen. The animations are smooth, and there's really very little you can't do with the application that you could do with a computer. Some here in the lab actually prefer this interface to that of their laptops, which is high praise for a newer interface.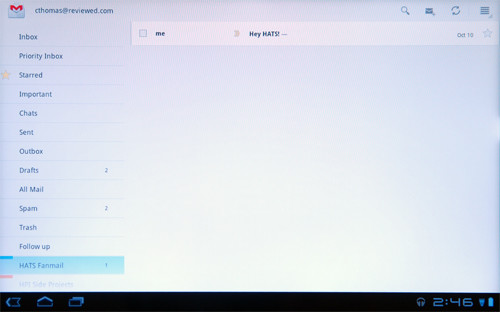 Gmail also allows you to link POP/IMAP/Exchange accounts to your gmail address, granting users the ability to use only one interface for several accounts, and select which one to manage all of their correspondence with. Though this is a rather convenient option, if you'd like to give a different interface for your email a whirl, there are always competitor applications in the Market for you to try out.
Web Browsing
Web browsing on a tablet is a little different than it is on a computer, but the differences aren't terribly radical. Using your fingers to scroll, tap links, tap into text boxes to enter information, you will quickly get the hang of browsing the web. Aside from a few pages that may be better suited for mobile devices, most of your browsing will look much the same as it does on a computer.
One thing that you'll probably enjoy is that the Acer Iconia Tab supports flash well, and doesn't seem to have much difficulty in playback. While Apple has decided to forgo supporting the "battery draining" file type, most Android-running systems offer support of both HTML5 and flash, which is something to think about if you enjoy watching flash animations or even making them.
Sections