Velocity Micro Cruz Tablet T301
The performance of the Micro Cruz T301 isn't too bad, especially when it's meant to be a budget Android tablet.
Velocity Micro Cruz T301 Tablet Review
$249.99
Screen
The screen of the Velocity Micro Cruz T301 is a 7 inch touchscreen with a resolution of 800 x 600 pixels. The responsiveness of the screen is actually quite good, as it often only took the heat of our fingers to press any of the virtual keys, and the contrast is fairly good for a tablet.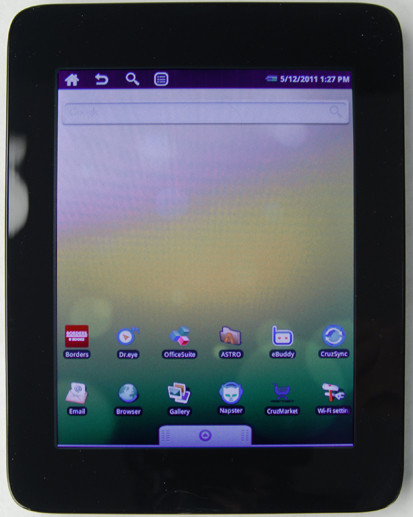 Indoor & Outdoor Use
Despite all the positives of the screen, there are drawbacks inherent to the LCD design that make outdoor use something to be avoided with the Cruz Tablet T301. It's not the only tablet with this problem, but because the LCD screen relies on a backlight to remain visible, when outside light sources overpower it, the LCD looks washed-out and the screen reflectiveness (which is high for the Cruz Tablet T301) makes deciphering what's on the screen extremely difficult.
Sections