tablets
Amazon Kindle Fire HDX 8.9" Tablet Review
The newest bargain tablet from Amazon offers a lot under the hood.
$379.00 MSRP
Buy now at Amazon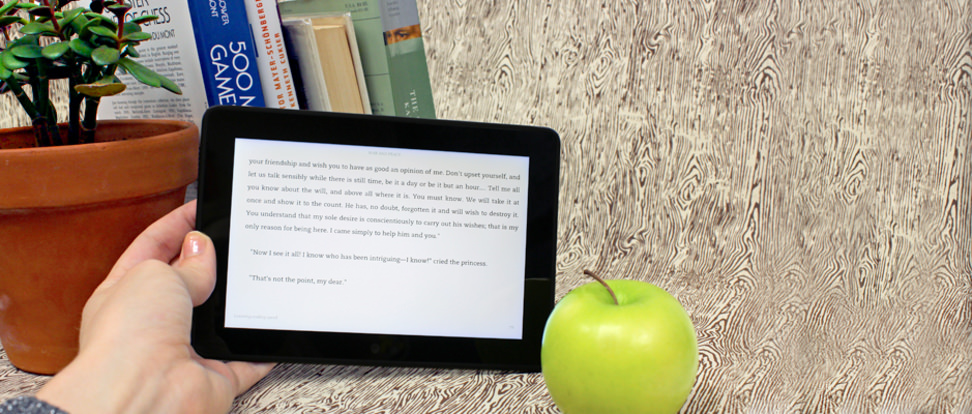 Meet the New Kindle Fire
Amazon's long-standing quest to undercut competition in price-for-performance continues with the latest Kindle Fire HDX 8.9 ($379 MSRP). Yet Kindles are losing ground where others are innovating, and simply making a tablet with increased specs is not enough.
Don't get me wrong: There are plenty of reasons to pick up a Kindle Fire HDX when it comes to media consumption—especially if you're an Amazon Prime subscriber—but the lackluster app store, missing Google services, and Byzantine user interface are enough to frustrate even the most patient tablet owner. By raw performance stats the 8.9 is a great tablet, but the content problems can't be overcome.
The iPad has far greater access to content libraries, true, but the Kindle Fire HDX still has unique offerings—like MayDay, a free video-chat customer service feature. Paying a hair under $400 for the HDX 8.9" may be a tough pill to swallow, but it's tough to find a more affordable streaming platform for less at this screen size.
Tour
Angular, light, loud
For 2013, Amazon completely redesigned the Kindle Fire to not only make it lighter, but to give it a complete overhaul under the hood. A much better processor (Qualcomm Snapdragon 800), 2GB RAM, and bizarrely-good speakers make the Kindle Fire HDX a treat to use with Amazon-centric services.
The screen is a point of great intrigue, as it is fantastic on the 8.9-inch model.
Grabbing the HDX 8.9-inch model will treat you to a well-shaped bezel that almost feels empty it's so light. The soft-touch coating on the back isn't likely to slip out of your fingers with a proper grip, and holding the tablet at a landscape orientation (like you would for movies) will not put your fingers over the camera, speakers, or headphone jack. Charging and file transfer is done over the included microUSB cable—though you may need to install the Android File Transfer utility if you have a Mac.
Media mavens will enjoy the fast dual-band wireless card, bluetooth connectivity, and light internet browser. However, if you do get stuck in the admittedly obtuse skin of Android (and you will), Amazon's "Mayday" video chat feature is quite helpful. Instead of searching through a densely-written FAQ, an actual person at Amazon will talk you through whatever you need, night or day.
The Kindle Fire HDX is a treat to use with Amazon services.
The screen is a point of great intrigue, as it is fantastic on the 8.9-inch model. Though there are some issues with black and white performance, a brilliant backlight and a super-accurate color performance make the Kindle Fire HDX 8.9-inch model a force to be reckoned with for film.
Performance Review
Good, bad, and ugly
Comparable Products
Before you buy the Amazon Kindle Fire HDX 8.9, take a look at these other tablets.
Conclusion
Great for video and eBooks, not so much for games
The Kindle Fire HDX tablets don't compete fiercely enough in the price department, making them a tougher sell; other tablets can run circles around these Kindles for the same (or lower) price. Though the Kindle Fire HDX 8.9 offers some truly laudable features and performance points, a tablet is not merely the sum of its parts. What separates the Nexus 7 and iPad from the Kindle Fire HDX isn't hardware, it's software and content.
A tablet is not merely the sum of its parts.
Tablet hardware has evolved to a point where improvements that look great on paper aren't actually doing much to increase user enjoyment—so don't get too stuck under the hood. To this end, Amazon's continued spat with Google is hurting Amazon more than it is anyone else, and at a certain point something's gotta give. There is absolutely no question in my mind that the Kindle Fire HDX is an impressive piece of hardware, but it lags far behind its competition in the services department.
However, Kindles are still great if you just want to stream content on a lasting battery. There is absolutely nothing wrong with the hardware, and the screen on the Kindle Fire HDX 8.9 is quite impressive to display photos and movies on. If you're an Amazon Prime customer looking for something to stream on, there is no better tablet to buy, though if you don't need Mayday, an iPad mini might be more your speed starting at $20 more.
Our editors review and recommend products to help you buy the stuff you need. If you make a purchase by clicking one of our links, we may earn a small share of the revenue. Our picks and opinions are independent from any business incentives.