tablets
Apple iPad Mini with Retina Display Tablet Review
Good things come in small aluminum packages.
$230.44 at Amazon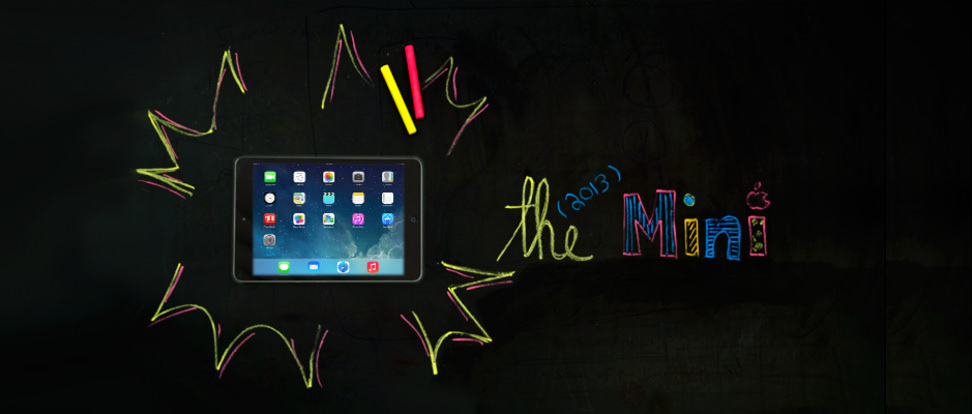 Put Your Helmet On
It's all fine and well to say "this is a good tablet," but it's quite another thing to show how and why. The iPad mini with retina display is certainly a good device, but it has a noticeably strange gamut issue that color its overall results. Before I'm hauled off by the pun police, here's a rundown of my lab notes to sift through.
Screen Performance
It's like shooting a puck into the post.
The iPad mini's retina display produces an image that puts the first gen mini to shame. Unfortunately, it also produces a noticeably bad (inaccurate) color gamut, which really cramps its style. As you can see, it undersaturates red and wildly shifts blue, which makes for a superbly screwy magenta. Though the white point is almost dead-on where it should be, it's hard to overlook chromatic error in other places. Oh well.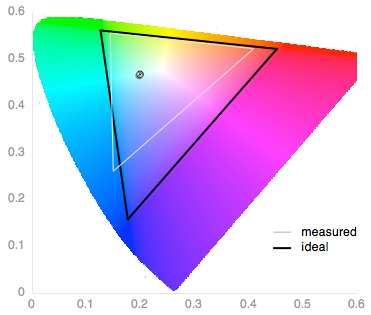 On the upside, the screen is far more pixel-dense than the original iPad mini. With a gross resolution of 2048 x 1536 pixels on a 7.9" screen, LG crammed 324 pixels per inch on the iPad mini's display—taking it across the prized "retina" threshold, meaning you won't suffer from any sort of pixel visibility—provided, of course, that you aren't taking the title of retina display too literally.

Additionally, contrast performance is quite good for a tablet, though not great overall. Though the gamma slope tracking transition of black to white is 2.2 (perfect), a 0.43cd/m2 black level and a 401.8cd/m2 peak brightness give this thing a somewhat narrow contrast ratio of 957:1.

When you take this thing outside, you may bemoan the average screen brightness, but reflectivity is laudable on the tablet. Though the reflection pattern is sharp, it only reflects 7.7% of all light shone on the screen, and a mere 2% directly back at your eyeballs. To date, this is one of the best tablets in this regard.
Battery Life
Properly juiced, with short charge time
It took a while, but the iPad mini finally finished our gantlet of tests. Though that highly-touted processor coupled with big battery are advertised with a performance of 10 hours of heavy use, that wasn't the case in our labs.
Though it lasted longer than the iPad Air, the iPad mini fell about three hours short of the "10 hour" mark in all of our battery tests. Cranking the backlight to max and disabling all wireless radios—like you would on an airplane—the mini was only able to replay video for 7 hours 14 minutes before exhausting its battery completely.
Bookworms will be disappointed to note that with the same settings, the mini was only able to read an eBook for 6 hours and 43 minutes. I will point out that you may be able to get a different result by turning down the backlight, and that's a good practice to get into anyways. If you don't like the auto-brightness setting, the control center now has a screen brightness slider—very useful at night when you don't need a blast of light to the face.
Comparable Products
Before you buy the Apple iPad mini (with retina display), take a look at these other tablets.
Processor
High performance, low clock speed
So this section will sound like I'm apologizing for less-than-perfect results, but to be completely clear: The iPad mini's A7 processor is intentionally a little hindered to make the most of its battery. That said, the GeekBench score of 2515 is actually very respectable (1391 single-core score), putting the mini just ever-so-slightly behind the Nexus 7.
A 64-bit dual-core ARM chip with 1.29GHz clock speed is more than enough to handle the vast majority of apps today. It should last for a long time, too. Next, though there are chips out there with better scores than the mini's, chips these days are looking less and less like the culprits when it comes to troubled processing—so this is nothing to fret over.
Critics will be quick to point out that the tablet has a lower clock speed than the iPad Air's 1.44GHz A7 processor, but I haven't noticed any performance errors yet in my unusually brutal use of the device. Some might crop up when the battery runs low, but so far everything looks to be in order. You don't need that extra 0.15GHz if you're consuming common media, though 64-bit games might suffer a tad.
Our editors review and recommend products to help you buy the stuff you need. If you make a purchase by clicking one of our links, we may earn a small share of the revenue. Our picks and opinions are independent from any business incentives.