tablets
Samsung Galaxy Note 10.1 (2014 Edition) Tablet Review
We dissect Samsung's best tablet yet.
$2,368.73 at Amazon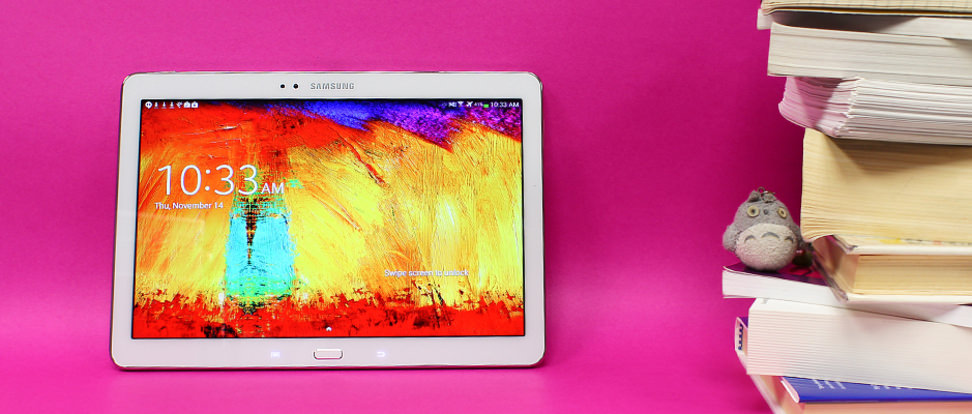 Gaze Upon Samsung's Works
Though the newest Galaxy Tab 8 and Galaxy Tab 10 recently crumbled under the weight of our testing protocols, the newest Galaxy Note 10.1 ($549 MSRP) is the complete opposite—with Samsung's best mobile screen ever, this is a special tablet. It's heartening to see the electronics giant end the year on such a high Note.
The Galaxy Note brings with it some experiments of Samsung's, and while some of them whiff, others knock it out of the park when it comes to user appeal. The stylus is great for handwriting and the faux-leather back offers a spiffy look and an unusual grip. It's a solid tablet, and can handle just about anything that's thrown at it. Many might not like the design choices of TouchWiz (Samsung's skin of Android) but the Galaxy Note 10.1 has all the hardware in place to be one of the best tablets on the market currently.
Tour
Still a flat, white rectangle, but with goodies inside
You can only say so much about flat plastic rectangles, but at least Samsung managed one unusual flourish: The back of the 10.1 is covered with an attractive faux-leather that not only feels great on your fingers, but lends an unusually stylish overall look.
On the inside of the Galaxy Note 10.1, you still get the whole host of hardware features enthusiasts love about the Samsung tablet family. A microSD card slot allows expandable storage, an IR blaster can control your home theater from your tablet, and the S-Pen gives you a stylus that works very well with creative apps. And the list trails on from there:
• 3GB RAM
• Exynos 1.3GHz processor
• 2560 x 1600 TFT liquid crystal display
• TouchWiz-flavored Android 4.3 (Jelly Bean)
• Bluetooth 4.0
• cutting-edge wireless card (802.11ac)
Charging is accomplished through a microUSB port on the bottom of the unit, which also allows drag'n'drop file sharing when connected to your home's PC. The headphone jack is placed so that it's unlikely to bother you when you're holding the tablet, and the S-Pen stores neatly inside the device from the side. On the faux-leather back of the device is an 8MP camera, allowing you to take the occasional shot with your tablet.
Performance Review
What a wonderful screen
First things first: this is the best color performance I've ever seen on a tablet—be it iOS, Windows, or Android. Too bad its contrast performance is mediocre, bringing the overall screen performance down a peg.
The other noteworthy mention? The Note 10.1 is especially great with creative apps, like Adobe's Photoshop Touch, thanks to the fluid S-Pen and beautiful screen.
Battery life is above average no matter how bright you crank the screen, and the internal hardware can handle every job thrown at it (within reason). You may or may not love Android, but all these points put together make for a very respectable tablet.
Comparable Products
Before you buy the Samsung Galaxy Note 10.1 (2014 edition), take a look at these other tablets.
Conclusion
A huge step in the right direction
By an enormous margin, this is the best tablet that Samsung has shipped to date. Not only is the form factor much like the other leading tablets on the market, but it does so much more with it that it's tough to believe at first. I'm still not sold on TouchWiz (Samsung's skin of Android), but the fact is you'd be hard-pressed to find a tablet with as much power under the hood unless you start getting into the very expensive Windows 8.1 hybrids.
The Note 10.1 doesn't hit all the superlatives: It's more expensive than its peers and it doesn't offer Amazon Prime. Yet it still has the muscle, the accurate color performance, and the beautiful design to justify its price. The Samsung Note 10.1 is a great tablet, but be prepared to shell out for it—prices start at $549.
If you feel something with added durability is more your speed, the iPad Air starts at $50 less. However, finding a competitive Android tablet the same size is tough—there aren't many tablets designed with a stylus in mind without some form of cuneiform on them. You might try your luck with a Sony Xperia Z for comparable performance, but be prepared to make a small sacrifice in two departments: processing and aesthetics. Overall, thanks to handsome design and dependable guts, not to mention unique perks like the Note's great stylus, the 10.1 is a great way to go.
Our editors review and recommend products to help you buy the stuff you need. If you make a purchase by clicking one of our links, we may earn a small share of the revenue. Our picks and opinions are independent from any business incentives.