tablets
Samsung Galaxy Note 10.1 (2014 Edition) Tablet Review
We dissect Samsung's best tablet yet.
$2,368.73 at Amazon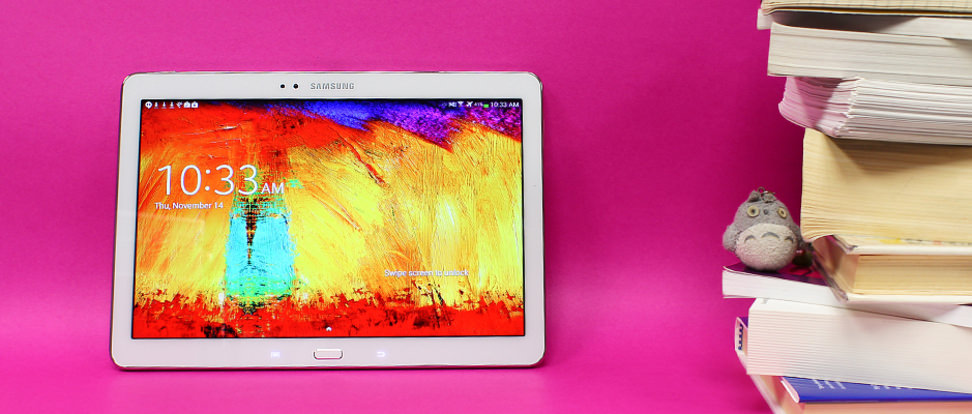 HDTV in Your Hands
Considering that tablets have pretty big screens these days, and seeing as it's big-name television manufacturers that are making those tablets, you'd expect dynamite screen performance, right? Wrong. Most tablets have crunched-in color gamuts, bad contrast, and poor reflectivity. However, the Samsung Galaxy Note 10.1 bucks this trend, giving consumers one of the most color-accurate screens found on a tablet today.
Screen Performance
What a pretty picture
The best I can compare the Note's performance to is a Faberge egg with a visible amount of tarnish on it—still beautiful, but definitely not perfect. So it is with the screen results.
To start, the color is the best I've ever seen on any tablet, and that's not a statement I make lightly. Below I've compared the measured color gamut against what we compare our HDTVs to: the Rec. 709 standard. It's almost perfect, with the lone exception of a tiny bit of undersaturation in reds—but at this level it's splitting hairs. The 305 PPI (pixels per inch) screen is great, too—you won't be able to see individual pixels.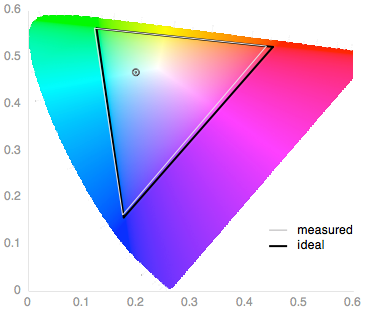 Contrast is another story, however, and the lone source of our gripes with the screen performance. Though the contrast ratio is a bit on the low side—sitting at 826:1—that's due to a poor black level of 0.48cd/m2 and a lackluster peak brightness of 396.3cd/m2 . Additionally, the gamma (transition from black to white) is also imperfect, as the slope of the line is 1.98 when it should be around 2.2. To put this in perspective, you may lose a bit of detail when there are shadows on the screen, and the occasional posterization of some gradients.

Screen reflectivity is decidedly mediocre—which is made worse by the weak backlight. Should you take this outside, you'll find that it bounces 10.5% of all light shone on the screen back, with 6.5% directly at the viewer.
Battery Life
More power
For such a large tablet, battery life is usually not all that great, but the Samsung Galaxy Note 10.1 does a fantastic job—especially with all that hardware tucked into the case. Normally excess RAM draws a bunch of current, as well as juiced-up processors and high-density displays, but battery life is not a concern for the Note.
Battery life is not a concern for the Note.
If you like watching a lot of video content, the Note is a fine way to go: With the backlight cranked and all wireless disabled, this tablet averages 8 hours and 9 minutes. That'll carry you through a cross-continental flight if you're in North America or Europe, though pond-hoppers may want to either lower the brightness or carry around a battery pack.
Readers will enjoy about 8 hours, 4 minutes with the same setup, though your performance may vary. Settings like changing backlight, background color, or turning on wireless will affect your battery performance.
Comparable Products
Before you buy the Samsung Galaxy Note 10.1 (2014 edition), take a look at these other tablets.
Processor
Samsung was accused of exaggerating its processor scores earlier this year, but the Galaxy Note doesn't appear to do that—at least with GeekBench 3.
Posting a benchmark score of 2564, the quad-core 1.9GHz ARM processor of the Galaxy Note handles large jobs very well—about as well as the best Android tablets of this year. Given that tablets as a whole generally don't have tough workloads, it's no surprise to me that I couldn't find a situation where the unit let me down performance-wise.
Our editors review and recommend products to help you buy the stuff you need. If you make a purchase by clicking one of our links, we may earn a small share of the revenue. Our picks and opinions are independent from any business incentives.