Page 2 Overview
Gingerbread? Does my tablet bake cookies?
No, sadly. Android 2.3 (Gingerbread) is a version of Google's tablet software that is commonly found on smartphones and older tablets like the Dell Streak 7 and the Coby Kyros. On the date of release, this version of Android introduced us to While it isn't the most advanced operating system (OS) in the tablet world, there are more people using this piece of Android software on their phone or tablet than any other iteration of the Android operating system.
While it doesn't have the same polished look as some of the newer versions of Android, it is the last in a long line of smartphone operating systems that were intended for mobile devices and not tablets. This doesn't stop some manufacturers from using it for bargain-bin tablets, so it's helpful to explore the user experience before you buy to know what you're getting into.
Section 1 Title - Page 2
OS and Controls
Section 1 Text - Page 2
The home screen allows you to access your favorite apps and functions, use the widgets that your device manufacturer added to make them stand out, or access your settings, notifications, and USB storage options. Typically, devices running the full version of Gingerbread will have 5 screens that you can tap or swipe through to organize your apps with, but sometimes the lower-end tablets will only have one.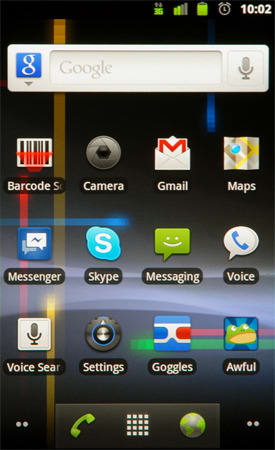 If you're sitting down with a Gingerbread-running device right now, you've probably already figured out that many of the controls are virtually identical to every other tablet out there; tap to click, swipe to turn pages/change homescreen, pinch to zoom in and out where applicable. If you are so inclined, the double-tap will also zoom in a bit, though it is less precise than pinching.
Depending on the specific skin of Gingerbread your device is running, there will be an icon that will allow you to look through all your apps in a huge flow list. If you'd like to place certain apps on the different home screens for quicker access, simply tap your finger on the app you want to move, and hold until the icon expands and moves with your finger. Then simply drag and drop to the position you want, and you're done!
Making sure your settings are optimized for you is important, as you can sometimes squeeze extra battery life out of your device by turning down the backlight, or disabling wireless connections. In the apps menu, or if you've placed the icon on the home screen, there will be a settings "app" that will allow users to change anything they want about their main settings. Things like wireless connections, display settings, sound, location and security (where applicable), Google accounts, security, etc. are all accessible through this menu.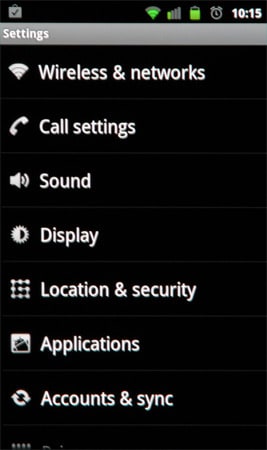 Perhaps one of the cooler things about Android is that there are far fewer restrictions on what you can and cannot do with your device. There's support for flash (unlike iOS), and there are available drivers and applications to run peripheral devices on your machine, even the ability to use a Wiimote to play games if you elect to do so. Really, the capabilities of your Gingerbread device are limited only by what exists in the Play Store, as file format issues are only a minor inconvenience for Android devices because you can almost always find away around it.
Section 2 Title - Page 2
Music and Video
Section 2 Text - Page 2
The media playback functions of Android 2.3 are relatively simplistic and straightforward, even if it doesn't allow for the same options you'd get in Honeycomb or Ice Cream Sandwich. As you can see from the music interface below, you will be greeted by the standard play/pause options, track forward/back icons, playlist options, shuffle and repeat. The scrub bar at the bottom is also helpful if you're looking for a certain point in a track, or a chapter in an audiobook.
As we will continue to mention ad nauseam, if there's a feature you don't like about your operating system, nine times out of ten you can replace it with another from the Play Store. This is especially helpful if the particular codec you need is not installed on your machine ahead of time.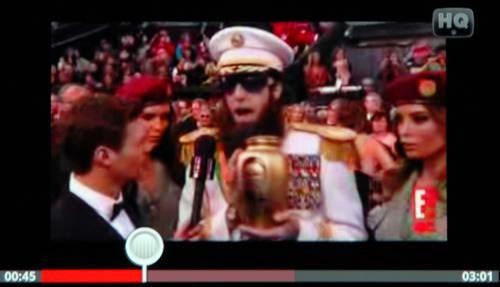 There's also incredible streaming support for all Android devices running anything at or above version 2.3 in the Play Store. You can choose between all yoru favorite services like Netflix, Amazon, Hulu+, etc to stream content to your tablet, and in some cases where your device actually allows it, to your TV.
Section 3 Title - Page 2
eBooks and Periodicals
Section 3 Text - Page 2
Because the market for eReader apps is largely cornered already, you will probably find yourself downloading apps from Amazon et alius even though most Android devices have their own eReader pre-installed in the software. Much of this is due to the fact that most eBook outlets online have their own proprietary file format, and it is a pain to either break the DRM or convert the files you have just so they can be used on another platform.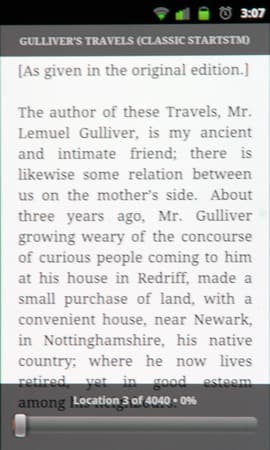 That being said, the apps are more or less identical across all platforms. What you see from the Amazon Kindle app on the Kindle Fire and the iPad will be roughly the same as it is on any Android device.
Section 4 Title - Page 2
Apps and Marketplace
Section 4 Text - Page 2
Speaking of apps, Now would be the time to tell you that the Play Store is second only to the Apple App Store in terms of total apps. What does this mean for you? Well, because the market is somewhat friendly for developers to market their (soft)wares, there are quite a few more apps that walk the line of questionable, but that unlocks a lot of the functions that nerds have been hoping for: emulators and bluetooth devices can really fly if you get the right apps.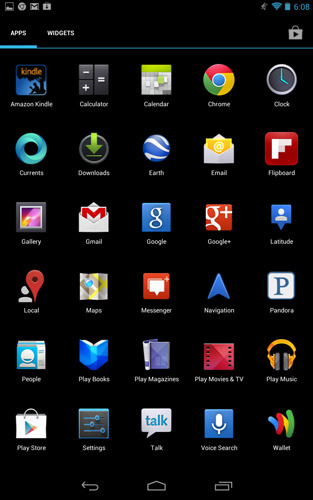 In addition to that, most of the really important or popular apps that are available across other platforms are usually available in the Play Store. Apps like Angry Birds, Netflix, Skype, Facebook and the rest are all there, plus hundreds upon hundreds of other must-have apps for people looking to coax the best experience out of their devices.
Users be wary: If your device is not a "Google-blessed" device that runs an unlicensed version of Android will not be able to enjoy the full support of Google apps, like maps, navigation, or any service that requires access to the Google servers for data. It doesn't seem like much at first, but the Google suite of apps cannot be oversold, as many of these (especially in smartphones) can turn your tablet from simple media platform, to GPS unit, on-the-go office assistant, music streaming platform, virtual credit card, and more.
Section 5 Title - Page 2
Internet and Productivity
Section 5 Text - Page 2
Included in the selection of apps for every Android device (that isn't artificially pared down) is a web browser, email app, and the option to download different programs to read and edit documents, spreadsheets and presentations. If you spring for a "Google blessed" device, you'll also be able to make full use of the location services, that will allow you to use your tablet to navigate streets and paths via the maps or navigation applications. You'll also be able to use the "Docs" application that will allow you to download, edit, and share your Google Docs from your device to your coworkers.
Examining the browser for Gingerbread, you'll notice that it's a very pared-down and basic browser that doesn't have many bells, whistles, or otherwise flashy features. It's a basic browser. Really, that's all that could be asked of it. You can open new windows, add bookmarks, and access the basic browser functions like "back/forward" etc., but not with only one tap.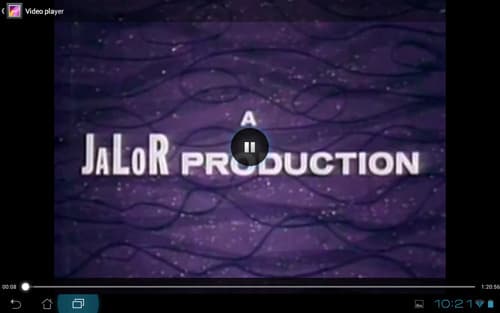 If you're unfortunate enough to have a resistive screen, there are often problems with the keyboard in the browser, but because most tablets use a capacitive touch screen, there isn't any cause for worry for name-brand models.
Our editors review and recommend products to help you buy the stuff you need. If you make a purchase by clicking one of our links, we may earn a small share of the revenue. Our picks and opinions are independent from any business incentives.
Sections