Page 4 Overview
I scream, you scream.
In October 2011, Google released its fourth major version of Android, also known as Ice Cream Sandwich, to marry the smartphone and tablet operating systems into one sleek platform. Originally released with the Samsung Galaxy S, it wasn't long before it came to tablets like the Asus Transformer Prime showing how seamlessly well the software worked on both phones and tablets.
While ICS doesn't do too much to separate itself from Honeycomb in terms of functionality, the real innovation offered by Android 4 is the ability to own several mobile devices that all run on the same, well-polished software across each platform much like iOS does for Apple products. In this respect, Android 4 is the first serious competitor to iOS fielded by Google. Let's explore a bit, shall we?
Section 1 Title - Page 4
OS and Controls
Section 1 Text - Page 4
Here it is, the ultimate Android experience that marries the functions of smartphones and tablets that can be used cross-platforms... Until Jellybean comes out to compete with Windows 8.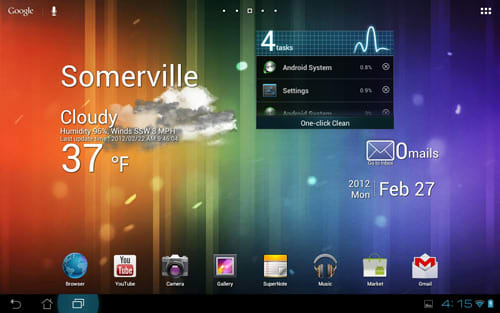 Users of Honeycomb should rejoice, as the controls for ICS are largely the same, but there are a few differences like range of widgets and appearance that you should be aware of. For example, the homescreens and controls are virtually identical, but the settings and clock are accessed through a different type of pop-up window, and the master apps list is manipulated horizontally, not vertically. Most apps are compatible with ICS as well, so don't worry about losing them if you upgrade.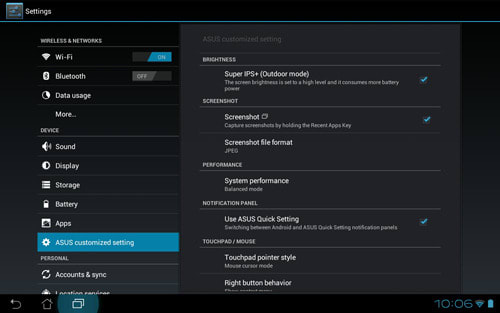 The main function buttons in the OS are basically the same, although now you can swipe away recently used applications in the history bar to terminate the record of them being open forever. On top of that, widgets can be resized on the desktop, and there is a task manager available to dispatch your unwanted services running in the background. In addition, you can create folders much like you would in iOS by dragging apps on top of one another. Overall, it's an experience that greatly rivals every other OS out on the market in functionality and appearance.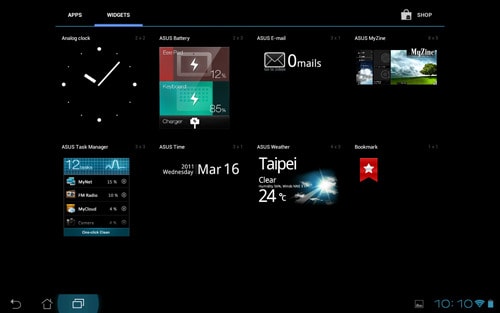 Section 2 Title - Page 4
Music and Video
Section 2 Text - Page 4
Music and video playback is largely the same as it is on Honeycomb with few differences. Mainly, after the marriage of the music player and Google's Music app, both operating systems have the same, identical music player and management systems unless you use a competing application through the Play Store.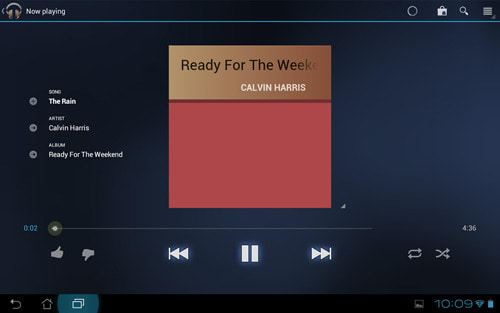 Video playback too is largely similar, although the aesthetics are fit to the ICS style, which is a bit more minimalistic than Honeycomb's. Beyond that, there isn't much difference.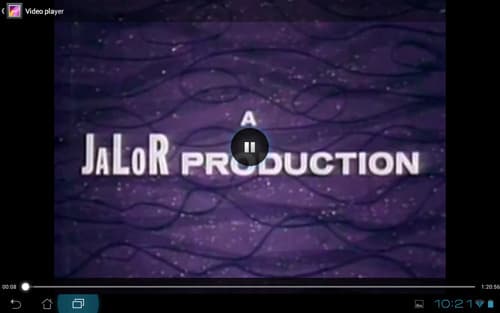 Section 3 Title - Page 4
eBooks and Periodicals
Section 3 Text - Page 4
Because tablets with the Android Ice Cream Sandwich operating system mostly have full access to the Play Store, you can pretty much download any eReader interface you'd like to use. Download the Kindle App, the Nook App, the Aldiko app or even use Google's stock eReader app.
Once you've found an app you like, you can read your eBooks, subscribe to auto-updating periodicals, or even share your favorite passages on social media sites from your tablet. Most apps will allow you a natural-feeling interface that takes a tap or swipe to turn the page forward or backwards, and you can most often change the font, font size, and color. You should have a rather rewarding experience with any app, but pay mind to the fact that having a lot of white area on the screen can bleed your battery dry fast if the backlight is cranked.
Section 4 Title - Page 4
Apps and Marketplace
Section 4 Text - Page 4
Tablets running Ice Cream Sandwich will have access to the Play Store which is rapidly gaining ground on Apple's App Store. In contrast to it's main fruit-branded competitor, Android apps include many independently-made apps to maximize the potential of your tablet's secondary capabilities like bluetooth, accelerometers, and IR blasters with off-label uses and off-the-wall programs. For example, you can even use apps to enable your tablet to use a Wii controller to play games.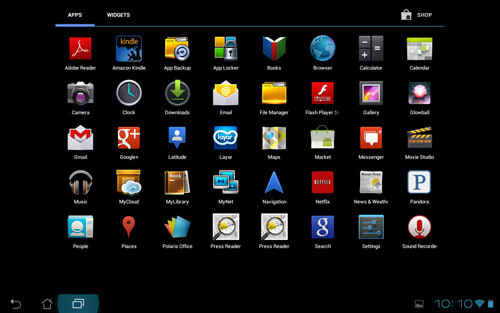 If you can't play your media files back due to your tablet not supporting the file, there's codecs and alternate media players for that. Same goes for music and eBooks. There is such a huge wealth of content, applications, and other programs to make your tablet fly, so if you get a chance, check it out. Not all apps are free, but it's nice to support your indie developers, right?
Section 5 Title - Page 4
Internet and Productivity
Section 5 Text - Page 4
Honeycomb and Ice Cream Sandwich have the best browser we've seen in the labs so far, as it's essentially very close to Google's existing Chrome browser. It has a different skin, but you can use many tabs, multiple windows, incognito tabs (that don't save personal data), and bookmarks like you normally would on your computer.
Not only is it very familiar and easy to use, but unlike iOS and many other proprietary systems, it supports flash animations. While it may not be such a huge deal to many people currently, it's still a nice thing to have if you like to browse independent animations.
Productivity software for Android devices varies, but there are several apps that allow you to read and edit documents and spreadsheets on the go available for purchase in the Play Store. Many of the higher-profile tablets will usually have one of these apps pre-installed, but it can never hurt to check ahead of time.
Our editors review and recommend products to help you buy the stuff you need. If you make a purchase by clicking one of our links, we may earn a small share of the revenue. Our picks and opinions are independent from any business incentives.
Sections