Page 5 Overview
Introduced to the world in Google's 2012 I/O conference, Android 4.1 (Jelly Bean) is the latest and greatest version of Android to date. Building upon the advances of Ice Cream Sandwich, Jelly Bean offers a smoother experience overall, loads of new features like Google Now, and a wealth of Google services not available to anyone without Android. Shipped with the new Google Nexus7, Jelly Bean is making a big splash in the tablet market to start, but will come to smartphones later in 2012.
Section 1 Title - Page 5
OS and Controls
Section 1 Text - Page 5
Google's decision to make Jelly Bean Android 4.1/4.2 instead of Android 5 should be a hint as to how they envisioned the latest Android OS to be less of a revolutionary upgrade from Ice Cream Sandwich, but somewhat of a more incremental one. If you were to look at the home screen of Android 4.1 and 4.0 side-by-side, you wouldn't notice a lot of differences right off the bat, though under the hood there is a lot more power with Jelly Bean.
Where Jelly Bean truly shines is in its control interface. While the vast majority of the controls and screens look the same, and there are certainly some new features that bring Android more into iOS arch-nemesis territory, Jelly Bean's most important upgrade comes in the smoothness and responsiveness of the OS itself (which is a gigantic upgrade over previous iterations of the Android OS).
Aside from that, widgets stuck around, voice search is still there, and you can customize your 5 home screens any way you'd like them. Much like iOS and Ice Cream Sandwich, you can create folders of apps, which is a plus for organizational purposes. There are also loads of peripheral features that you won't find on any other OS, including many of the experimental Google apps, like Photo Sphere image-taking, gesture typing, and multiple user login. The latter of which is very helpful if you have many people who use the tablet and are liable to change things up on you.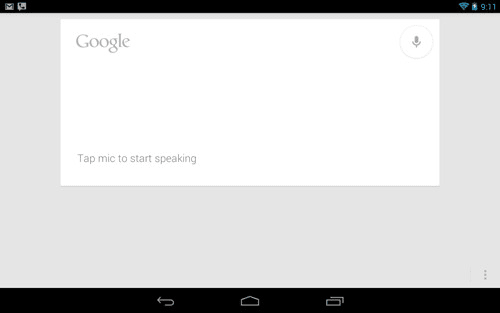 What is very different about the interface mainly resides in the notifications bar at the top. Unlike in previous versions of Android operating systems, you can swipe notifications away, reply to emails with canned responses, control your music, and a whole host of other functions with smart notifications. This is a radical new way to handle notifications that will serve users well in the future.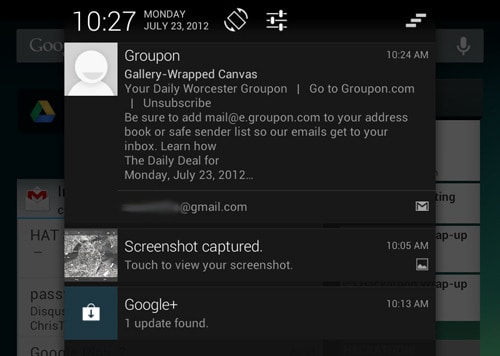 In terms of consistency, you'll notice that no matter what app you're running, you'll have the same three system controls available to you in the same place: at the bottom of the screen. Where iOS has only one button (Home), and Windows RT has too many, Android has Back, Home, and Recent Apps.
Section 2 Title - Page 5
Music and Video
Section 2 Text - Page 5
Same as it ever was, the Play Music app and the video player in Jelly Bean are largely similar to their counterparts in Ice Cream Sandwich. The layout is a bit different in some instances (like the main control screen), but the same functions are still available. Both the music and video control interfaces have a scrub bar to quickly find a spot in your file, a play/pause icon, and a disappearing overlay.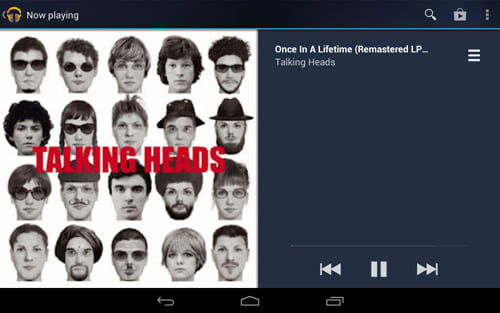 As you can see here, the video playback has basically the same format, but with updated graphics to fit the Jelly Bean aesthetic.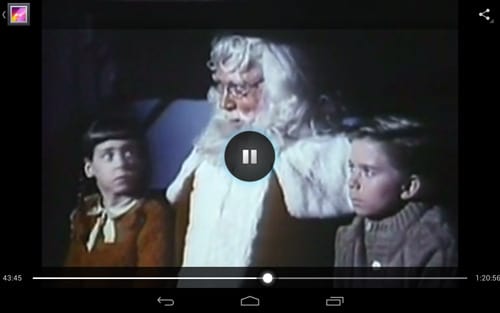 Section 3 Title - Page 5
eBooks and Periodicals
Section 3 Text - Page 5
Because tablets with the Android Jelly bean OS have full access to Google's Play Store, you can download just about any eReader application you want. Download the Kindle App, the Nook App, the Aldiko app or even use Google's stock Play Books app, which has fantastic page turn animations.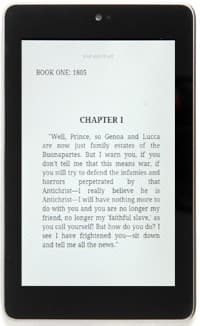 Once you've found an app you like, you can read your eBooks, subscribe to periodicals, or share your favorite passages on social media sites directly from your device. Just about every app nowadays will give you a natural-feeling interface that takes a tap or swipe to turn the pages accordingly, and you can most always change the font, size, and color of text. Now that there are so many other apps like Google Currents and Flipboard are polished and ready for primetime, there is a huge range of options here.
Section 4 Title - Page 5
Apps and Features
Section 4 Text - Page 5
Tablets with Jelly Bean have access to all the latest features from Google, including a service called Google Now, which learns as much as it can about you and your daily habits, tastes, and even your commute to provide you with up to date information that can assist you in your daily activities. As always, Android devices have a rather wide array of hardware options depending upon which tablet you buy, so you can potentially make use of apps that enable NFC tag use, an IR blaster, or bluetooth.
Much like in Ice Cream Sandwich, the app drawer can toggled by tapping the circular icon at the bottom of the screen with six dots in it. Once inside, you can swipe through a list of your tablet's apps, place them on the home screen, or browse widgets to use. New apps will be placed in the app drawer, and you can do with them as you please. If you'd like to consolidate them into folders on your home screens, just drag them on top of each other. You can even name these new folders.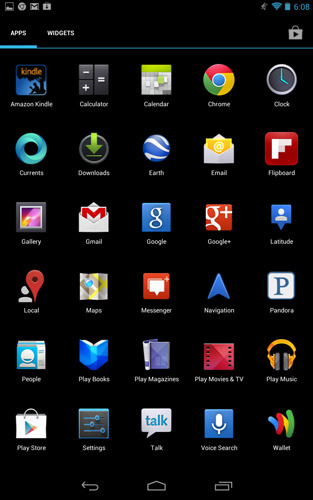 Section 5 Title - Page 5
Internet and productivity
Section 5 Text - Page 5
Jelly Bean is the first Android OS to ship with Google's vaunted Chrome browser. You can use multiple tabs, multiple windows, incognito tabs that don't save personal data, and bookmarks like you normally would on your PC, Mac or Linux computer.
There's a bunch of productivity software for Android devices, and there are several apps that allow you to read and edit documents and spreadsheets available for purchase in Google's app the Play Store. Many of the more expensive tablets will usually have one of these apps pre-loaded, but it's good to know they're available for all.
Our editors review and recommend products to help you buy the stuff you need. If you make a purchase by clicking one of our links, we may earn a small share of the revenue. Our picks and opinions are independent from any business incentives.
Sections