Section 1 Title - Page 2
User interface
Section 1 Text - Page 2
The iOS user interface should feel very familiar to anyone who has used a tablet before, because many other systems are extremely similar, and that's no accident. The iconic user interface is very easy to use, if a bit simplistic (think: my first tablet). Icons are arranged on the home screen as the user defines them, and they can be moved by holding your finger down on an app until they start "shaking." Drag and drop them to change their position, or drop them onto another app to create a folder that you can re-name.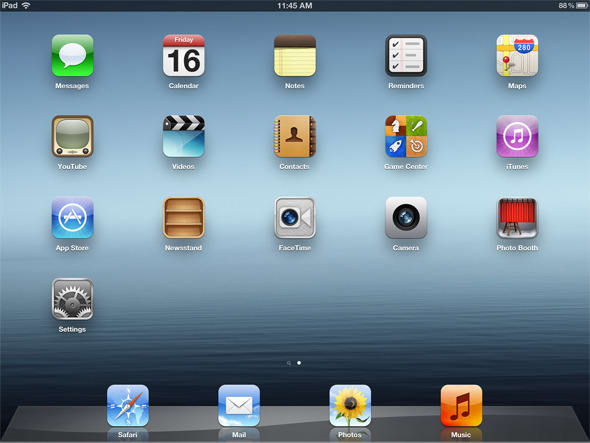 But wait, perhaps we're getting ahead of ourselves? Let's review the basic controls first. Tapping your finger is much like clicking with a mouse, though you do not need to double-click ever. Pinching will allow you to zoom in or out where it's applicable, and holding your finger down will call up a menu in certain situations. In order to switch between pages of the homescreen, you can flick your finger much like one would turn a page, and that will allow you to quickly sift through the mountain of apps users sometimes grab from the App Store.
Menus are relatively simplistic by design, and there's very little you can do to mess up your settings irreparably. Take a gander below: settings are laid out in a list format, simplified so that you can use a simple touch or swipe to alter them to your liking. Things you can change via the menu include interface options like: notifications, screen settings, social media settings, location services, and more.
Section 2 Title - Page 2
Keyboard and input options
Section 2 Text - Page 2
As the trailblazer in the tablet market, iPads and other iOS devices offer some features for input that are innovative, and others that are disappointing, but over all it's a matter of preference. For example, the language support is somewhat lacking, but the ability to split the keyboard on the bottom into two sections in order to facilitate thumb-typers saves time and arm fatigue over a long period of time.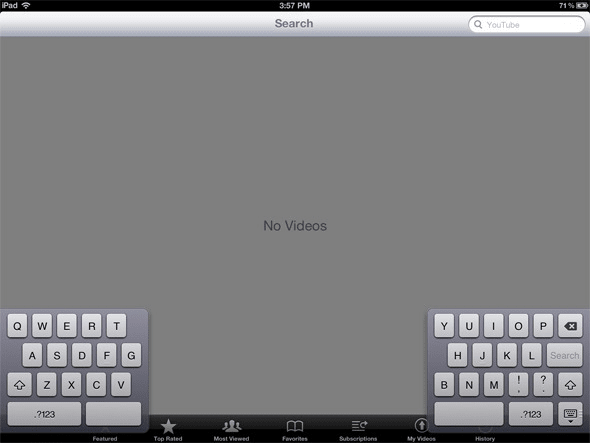 Tapping on a text box will call out the keyboard at the bottom of the screen, and it moves to match the orientation of the tablet itself. To enter in text, simply tap your fingers on the corresponding keys, and you're done; no special instructions necessary.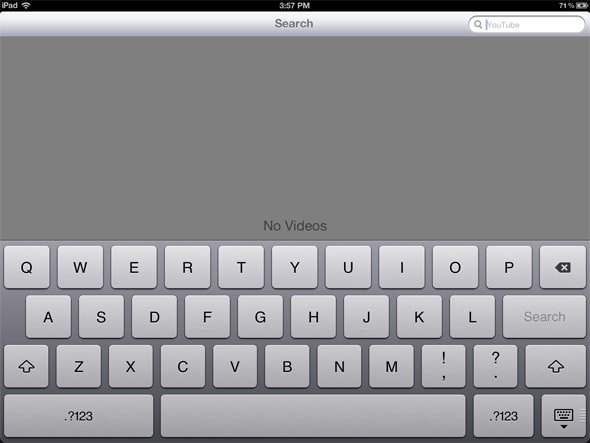 Also present in iOS is the ability to connect Apple peripherals to your device via bluetooth, if your hardware supports it. Once you've set your accessory to be discoverable via bluetooth, search for the device and connect. It's that easy. Once you've done this, you can use things like a wireless keyboard if you don't like the virtual controls of the iPad. Be sure to check out Apple's list of accessories to see what you can pair your iOS device with for maximum enjoyment.
Section 3 Title - Page 2
App management
Section 3 Text - Page 2
app (ˈæp) n. A small, self-contained and self-installing application, used on portable computing devices; tailored for mass consumption.

_ex. "I totally downloaded an awesome app from the App Store."
Apps are integral to the overall framework of iOS, as most of the actions you will perform on your tablet or phone will be through one of these self-contained programs. Input options with applications can range from touching the capacitive screen, to tilting your device to make use of accelerometers (much like the Wii remote), to controlling data from a remote source. While the same controls are not available across platforms, so far most applications have a rather intuitive control interface based on their function. As you can imagine, this also means that there is no shortage of games that make use of the unique control interface, so go nuts trying out new games.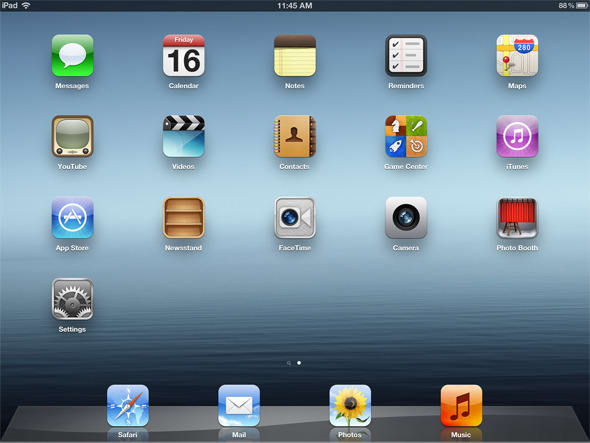 As far as managing your apps goes, the process is a lot simpler than you might believe at first, if you've never used an iOS device before. If you elect to do so, once you locate your app icon, you can hold your finger on it until it starts "shaking," and then drag and drop it to your desired location. You can also drag and drop it onto other applications to create folders of apps like you can in Ice Cream Sandwich. To access apps in a folder (that you can re-title yourself), just tap the folder icon, and a small menu bubble will appear on the screen with all the apps contained within.
You can also manage apps on your Apple account from iTunes to delete or temporarily remove them from your device. If you don't mind a closed system, this is a fairly simple and easy interface to get used to.
Section 4 Title - Page 2
iTunes and file management
Section 4 Text - Page 2
For as many upsides as the iPad has, iOS has one potential downside for consumers looking to upload and manage their own content onto their devices, and that is a monster known as iTunes. Unlike the Android content management system (which is literally: "plug in USB cable, enable USB storage, drag and drop"), the iTunes method of content management is a little different. For some, iTunes is a deal-breaker because of file format issues and the inability to reconcile the terms-of-service agreement and some forms of user-generated content (art students, pay attention). That isn't to say that it's bad: it just takes a little getting used to in order to work it correctly. Keep in mind, however, that nowadays, iTunes isn't 100% necessary unless you want to move files not on your iCloud account onto your device.
First things first, if you have an iPod, you're probably going to know a lot about iTunes and how it works, so feel free to skip this section with the caveat that depending on your library size, you're going to want to do some creative managing to optimize your setup for your iPad versus your iPod.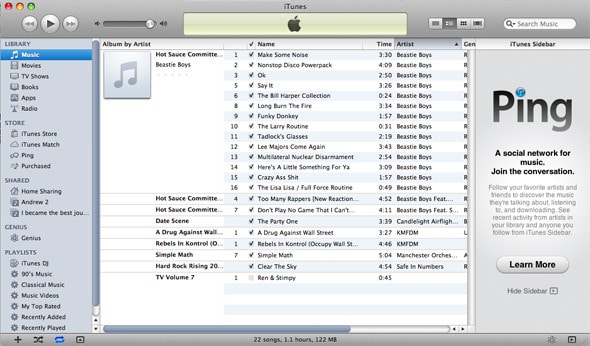 Here is the iTunes home screen, with media categories/lists to the left, settings on the top, just above the playback options. Once you hook up your device to the computer (or connect via WiFi, new in iOS 5) you want to sync with, your iPad will appear as a list item on the left column of the screen, with options to sync it or eject it. If you click on the item, you can tell it exactly what content you'd like to sync in order to manage your free space the way you'd like without getting any data overrun issues.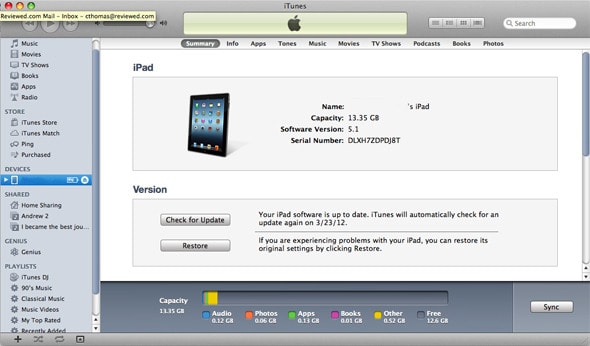 Assuming this is set to your liking, you're ready to sync. All you have to do is click the "sync" button and wait for your files to update/upload/download. This process takes a while, but once it's over, all of the synced files will be available and organized on your iPad without much user error getting in the way.
Section 5 Text - Page 2
Our editors review and recommend products to help you buy the stuff you need. If you make a purchase by clicking one of our links, we may earn a small share of the revenue. Our picks and opinions are independent from any business incentives.
Sections